The SMOKEY BEAR ASSOCIATION
Celebrating

27 years

of its' mission to

preserve Smokey's past, promote his present, and protect his future.
Note: There is still time to join the SBA (free for 2022), register, and attend the bi-annual convention in October.
See the convention page for details.
Preserve his past:
Association members are Smokey Bear collectors but they collect not for value but to preserve as many items produced by the US Forest Service as well as commercial items for future generations to view. Some collect any type of item while others focus on specific items such as posters, bookmarks, recordings, USFS promotional giveaways, toys, etc. Specific item collectors become valuable research sources as they categorize and record those items.
Promote his present:
This is attained by the exposure members give Smokey through their collection displays at public events (fairs, forestry events), assemblies, and the distribution of materials at schools, and the SBA bi-annual conventions.
Protect his future:
Smokey Bear is a copyrighted figure with strict guidelines for use. All use of Smokey in any form must first have the approval of the Forest Service. Any unauthorized use is a criminal offense. SBA member vigilantly watch for abuse of his image or name and report it to the Forest Service.
Smokey Bear Association History

The Smokey Bear Association, formerly the Hot Foot Teddy Collectors Association (HFTCA) was founded in 1995 by retired fire captain specialist, Jim Van Meter of California.
As the new organization grew, it attracted some of the largest collectors of Smokey Bear memorabilia in the US. The members soon learned the value of making new contacts, networking, and sharing of knowledge to help complete their Smokey Bear collections and preserving the history of Smokey Bear collectibles.
The club ultimately evolved into a nationwide organization with hundreds of members who regularly buy, sell, and trade with each other which would never have been possible without the formation of the SBA.
Logo
The Hot Foot Teddy Collectors Association logo, a bear cub with bandaged paws sitting beside a charred tree stump, was unveiled in 1997. This was drawn by the late member-artist Rudolph Wendelin, "caretaker" of Smokey Bear. That same year, the club hosted its first national convention, attracting over 80 members.
On August 16, 2012 by a majority vote of the membership, the name of the Association was changed to the Smokey Bear Association.
2019 By-laws of the Smokey Bear Association
Click here for access to a copy of the SBA By-laws.
Smokey Bear Association Board Minutes
Click here for access to board minutes.
Smokey Bear Association Membership Directory
Click here for access to a copy of the SBA membership directory
SBA Newletters
Debuting on July 1, 1995, the first issue of the Hot Foot Teddy Collectors Association newsletter was an attempt at providing "a formal method of reaching lovers of Smokey Bear across the country."
The club was first referred to as the SBCA: Smokey Bear Collectors Association. It was changed to the Hot Foot Teddy Collectors Association in the March 1997 News.
Archived SBA Newsletters are available on request to SBA members only. Please email the newsletter editor (smbrnewsletter@gmail.com) for specific issues.
The SBA Theme & Smokey Bear Songs
Click here for the music to the SBA's official theme song.
Click here for an assortment of songs about Smokey Bear.
Questions? Comments? Get in touch via email.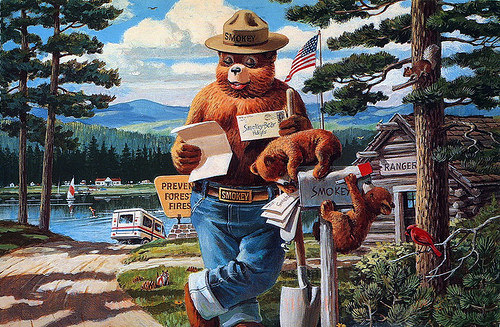 Send emails to: SBAadvice@gmail.com
Please include:
Your name.

State of residence.

Question, comment, or suggestion.
One of the SBA Questions team will answer you within a week. Thanks for your question or suggestion.
---