If you have anything to add, please contact the webmaster at smbrnewsletter@gmail.com
Smokey Bear Public Service Announcements:
Radio Public Service Announcements
1950s: Art Linkletter, Roy Rogers, James Arness, Ward Bond, Bing Crosby, Dale Robertson, Clint Walker
1960s: Barbara Stanwyck, Williard Waterman, Dinah Shore, Broderick Crawford, Billy Gray, Walter Brennan
1970s: Register & Complaint, Great Americans, Ray Charles, The Chipmonks, America the Ugly, Forest Legend, Happy Birthday
1980s: Reasoning, Cheech & Chong, Happy Birthday, B.B. King, Grateful Dead, Mr. Spock, Barbara Mandrell
1990s: Bluegrass, Ted Nugent, Birthday Candles, Birthday Children
2020s: Betty White, Al Roker, Stephen Colbert, Jeff Foxworthy, Isabella Gomez
Video Public Service Announcements
1970-1985: John Wayne, A Lot of Things Come to Life in the Forest, 200th Birthday, Smokey Bear Works Hard, Happy Birthday America, In the Time It Takes to Grow a Tree, History & Trees,
1971-1985: Ray Charles, Think, Only You, America the Ugly, Joanna Cassidy, I Think I Love You, 9 Out of 10, Time, 100 Years/1 Second
1978 Dummies with Knucklehead Smith
1979 Only You Can Prevent Forest Fires
1980s Canadian Forestry Association
1985 Being Careless with Fire
1989 Where Do Forest Fires Come From
1990+: Do What Smokey Says, Only You–We Can't, Smokey Says, Put It Out, 60th Birthday
1992 Hello
1995 We Know We Can Count on You
1995 Over 2 Million Acres
Film Shorts
Please be careful in viewing these shorts. Not all of them contain accurate information.
1950: The Real Smokey Bear; a film by Homer Pickens
1950: The Real Smokey Bear pt. 2; Washington D.C.
1952: Story of Smokey Bear w/Eddy Arnold & Harry Rossoll (Pierre)
1952: 2 Forest Service Wildfire Prevention PSA cartoons
1953: Little Smokey with Hoppalong Cassidy
1956: In the Bag (Humphery Bear cartoon)
1960: Smokey Bear and the Little Boy
1966: Ballad of Smokey Bear (preview)
1971: Smokey's Story with Dennis Weaver
1983: Smokey Bear Curse (w/Andy Griffith)
1984: Smokey's 40th Birthday Party (Marienville, PA)
1994: A Children's Story of Smokey Bear
2004: Smokey Bear Training Course
2009: Smokey's Lessons on Fire Safety (WI-DNR)
2011: SBA Convention, Glide, OR
2011: Smokey Bear & Friends Celebrate "Living in America"
2012: Smokey Bear & Sparky Dance-off
2012: Smokey & Woodsy Home Sweet Home
2013: NM Adventure: Smokey Bear–The Full Story
2013: Smokey Bear Balloon Takes Flight
2013: Smokey Bear Balloon Controversy
2013: The Story of Smokey Bear (Alamagordo High School)
2014: Smokey Bear turns 70 (ABC News)
2014: Smokey Balloon Crash: 10 Years Later
2014: CBS This Morning: Smokey Bear Turns 70
2014: Passage–Smokey's 70th (Jane Pauley)
2014: Happy 70th, Smokey Bear (Florida Forest Service)
2014: Smokey's 70th Birthday Party (FL Bass Pro Shop)
2014: Singing Happy Birthday (Carmike Fleming Island)
2014: Smokey's Demise (The Onion)
2015: Smokey Visits the Fire Lookout Museum (Spokane, WA)
2015: Decades TV Network: Smokey Bear
2015: Albany, OR Smokey Bear Balloon Launch
2016: Smokey's Campfire Safety Competition (MI-DNR)
2016: Smokey Bear & Friends (Angeles Nat. Forest)
2017: Bill Chapel, SB Balloon Pilot, memorium
2017: Pilot of Famous Smokey Bear Balloon Passes Away
2018: Smokey Bear's Fire Extinguisher Training
2018: Deathbattle: Smokey Bear vs McGruff the Crime Dog
2019: Montana Celebrates Smokey's 75th
2019: Happy Birthday Smokey Bear (75th)
2019: KARK-TV: Smokey Bear Anniversary (75th)
2019: Happy 75th Birthday, Smokey (Nevada County Media)
2019: Smokey Bear's 75th Campaign
2020: History of Finding the Smokey Bear cub
2020: Living Here–Smokey Bear Museum
2021: Abnormal Voyages: Bear Necessities
2021: Brand Management: The History of Smokey Bear
2021: The Story of Smokey Bear – Life In America
2022: Dinosaur Dinner Theater: Camping (a satire)
2022: S.C. State Library: Smokey Bear
2022: N.C. Forest Service Wildfire Prevention
Smokey Bear Collectors with Don & Carol Bretz, Robert Rouse
Recollection Road: Smokey Bear
Decades TV Network: Smokey Bear
Smokey Bear School Program (FL Forest Service)
The Simpsons: Mountain of Madness episode
The Simpsons: Homer is Scared of Bears'
Smokey Bear Artists
The Smokey Bear Show: 1969-1971
Information and episode list (Wikipedia)
Opening & Closing Songs and Credits
Founder's Day Follies/Spooksville/One Born Every Second/ The Outlaws
Audio Books
Smokey Bear's Story Reading (TX A&M)
Read Aloud: Jane Werner's Smokey the Bear
Read Along: Smokey the Bear by Jane Werner (read by Kay Lande)
Smokey Bear Digital Book: Bears in Space
2020: The True Story of Smokey Bear by Jane Werner (OR Dept. of Forestry)
2020: Smokey Bear–A True Story by Hannah Cales
Smokey 75th USFS Birthday Challenge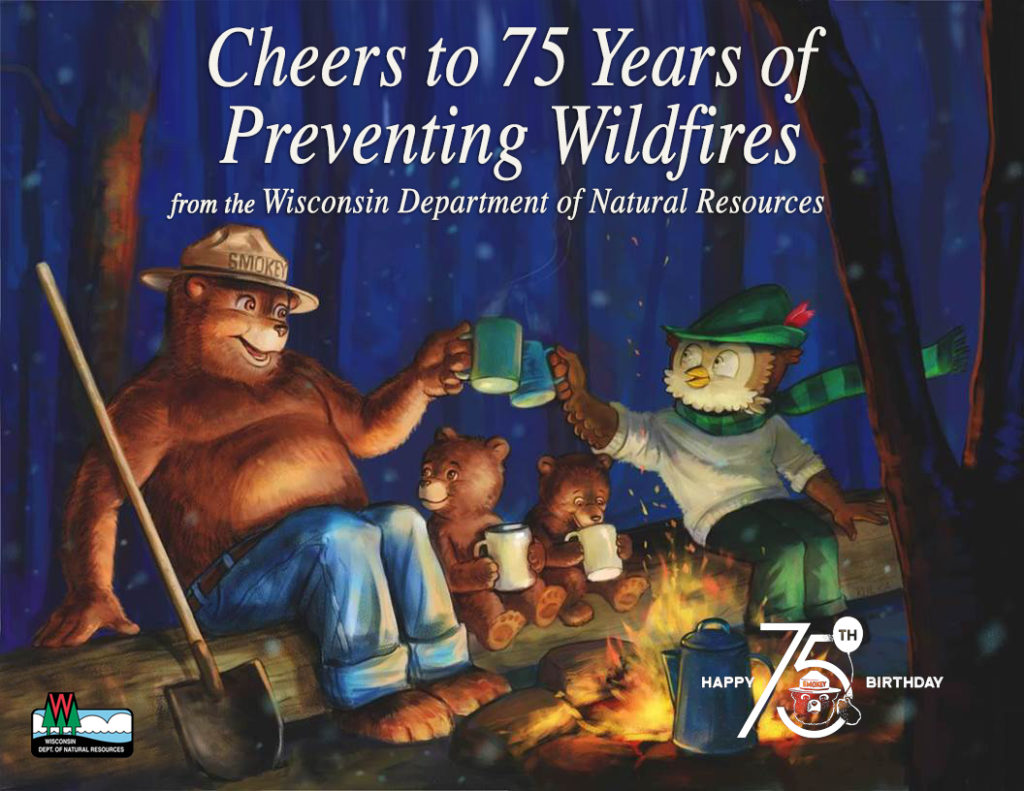 Mississippi
Nebraska
New Jersey Forest Fire Service
South Caroling Forestry Commission
Smokey Bear Songs & Records
Smokey the Bear (Johnny Jones, vocalist)
Smokey the Bear (Rocking Horse Orchestra & Chorus)
Smokey the Bear (Frank Luther)
Smokey the Bear (Jerry Wayne)
Ballad of Smokey the Bear (Harry Simeone Chorale, 1966)
The Ballad of Smokey the Bear (Richard Wolfe Childrens Chorus)
Anyone Can Move a Mountain (from The Ballad of S.B., Harry Simeone Chorale, 1966)
Smokey & His Friends: Keep America Beautiful (Jackson Weaver, 1966)
Smokey Bear with Ranger Hal (Jackson Weaver, 1967)
Don't Play with Matches, Don't Play with Fire (2008)
The Smokey Bear Song by Greg Walter (Ohio DNR 2015)
Wildfires Are a Scary Thing (MI-DNR 2017)
Smokey Bear Says (Brett Dennen, 2020)
To view record covers (front & back) press this link
Smokey Bear Sheet Music
Books about Smokey Bear
Smokey Bear Comic Books
Smokey Bear Guest Appearances
Smokey Bear Newspaper Comic Strips
Click here for Sunday comic strips
Click here for Daily comic strips
Smokey Bear Calendar Art
Smokey Bear Coloring & Sticker Books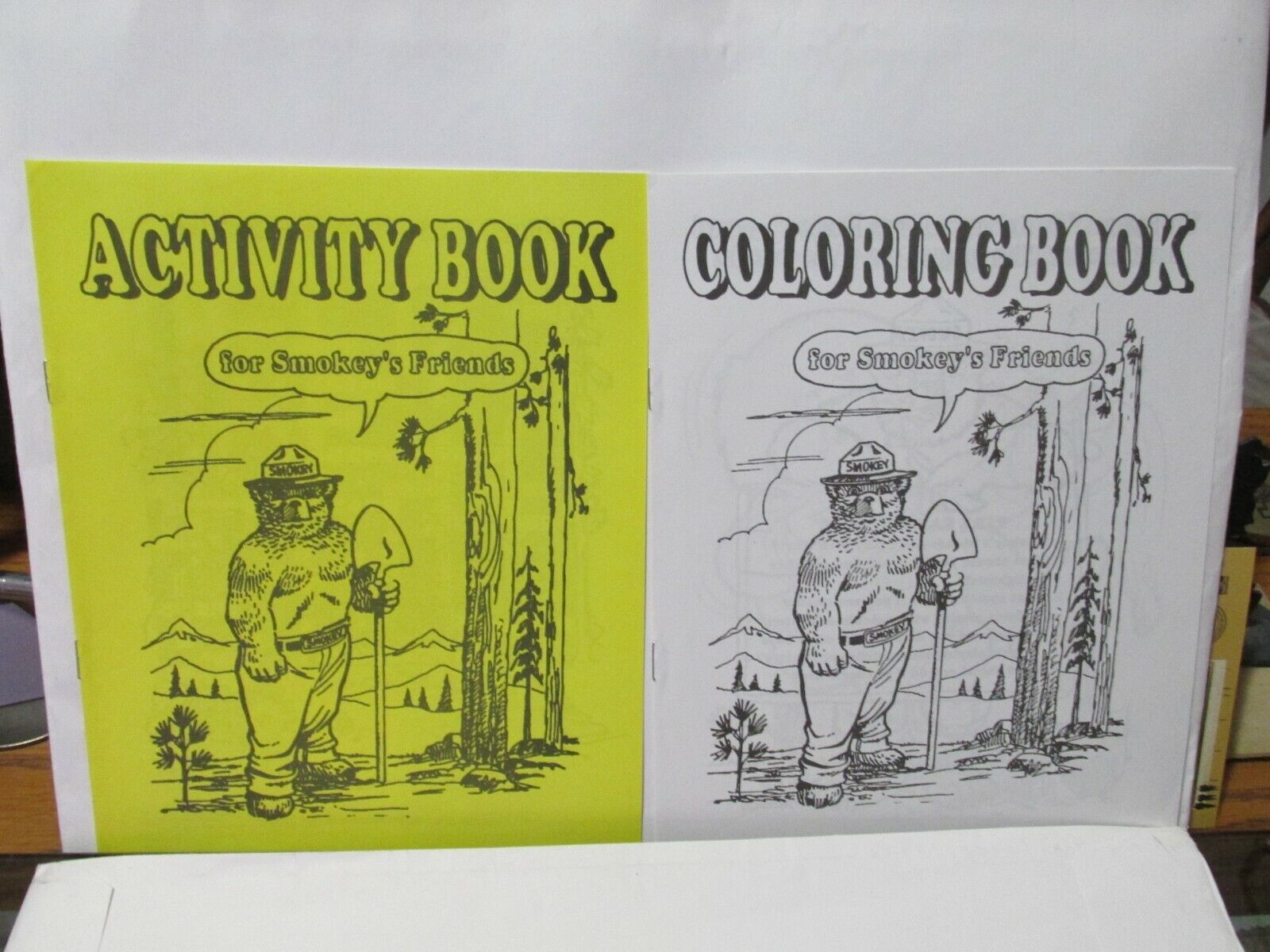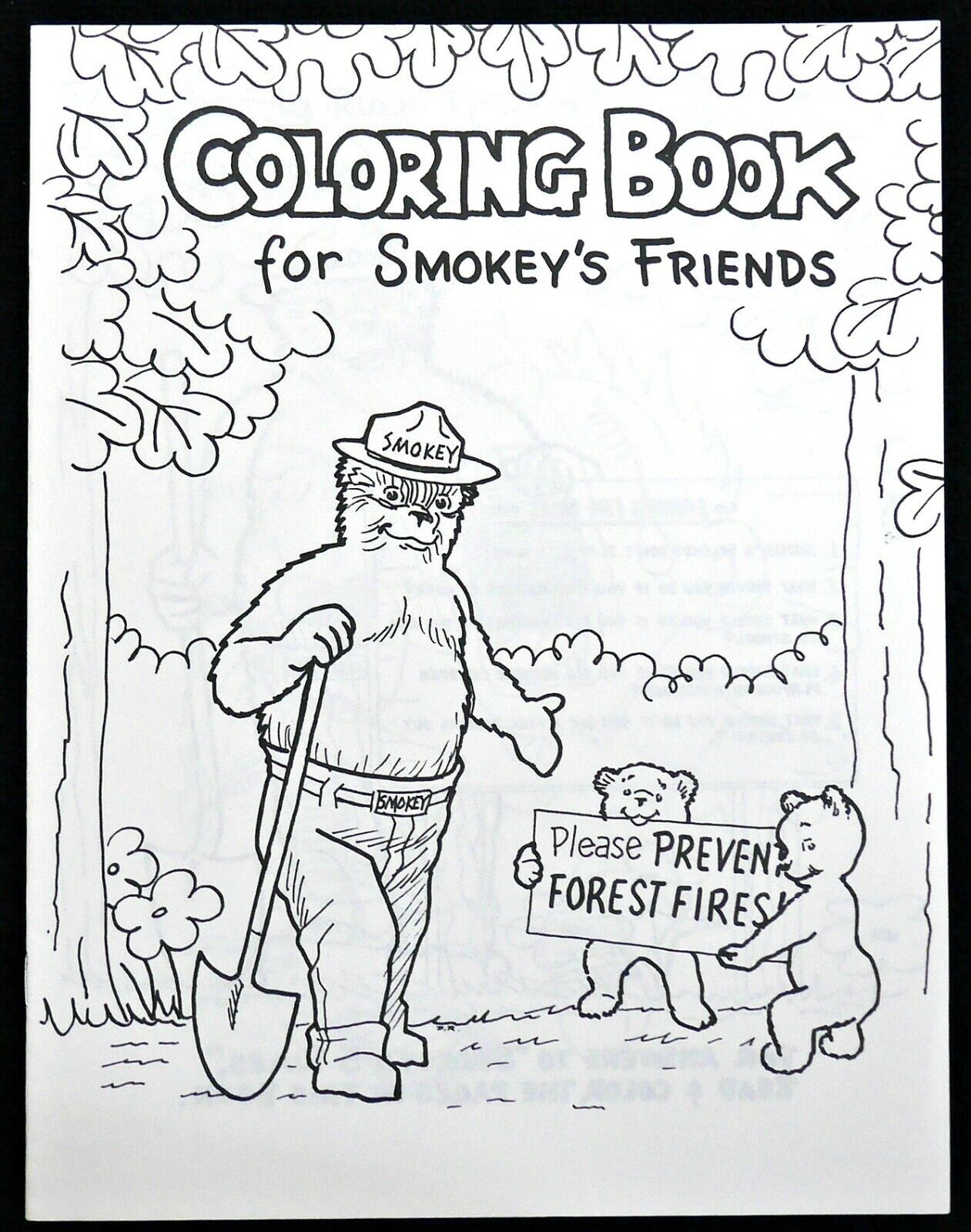 Smokey Bear Press Clippings